Choose your privacy level
When you select your room type, you'll decide your level of privacy. Here are descriptions of those privacy levels.
You may be the type to go out and about — surrounding yourself with people as you seek to build your KU community in which you'll live and learn. But once you return "home" to your on-campus space, you may also wish for a greater degree of privacy.
The good news is that you can have both in on-campus housing.
KU will be a time to challenge yourself, expand your perspective, and be enriched by new friends and mentors. Living on campus will be the easiest way to transition to college. We want to make sure you choose the space that's most comfortable for you, whether it's sharing space with many people or space that's a little less busy. 
From private rooms to 4-person suites and shared 6-person apartments, you're sure to find an on-campus housing option that's right for you. Browse a wide variety of room types below and determine what will fit you best.
It's time to #LiveWhereYouRockChalk.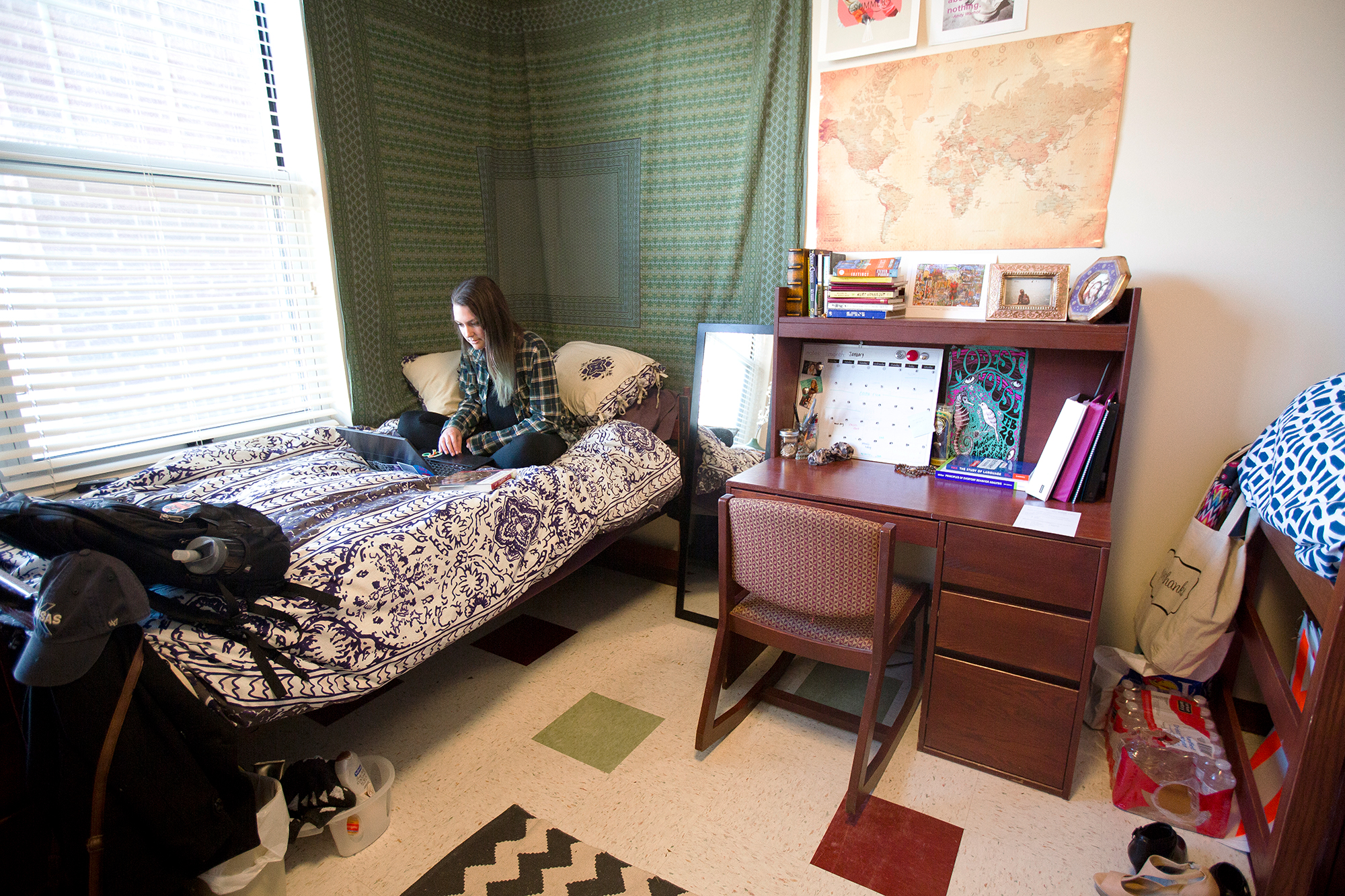 Traditional
Traditional halls and rooms are defined as those that have 1- or 2-person bedrooms, shared bathrooms, and shared hallways.
In the residence hall community, four of the nine halls offer traditional rooms. KU residence halls have about 300-500 students each. To explore residence halls with traditional rooms, see Corbin, Ellsworth, GSP and Hashinger.
Scholarship halls also have traditional rooms. The men's scholarship halls with that option are Battenfeld, Pearson, and Stephenson. Women's scholarship halls with those rooms are Douthart, Miller, Sellards, and Watkins. One of two co-ed scholarship halls, Grace Pearson, also has traditional rooms.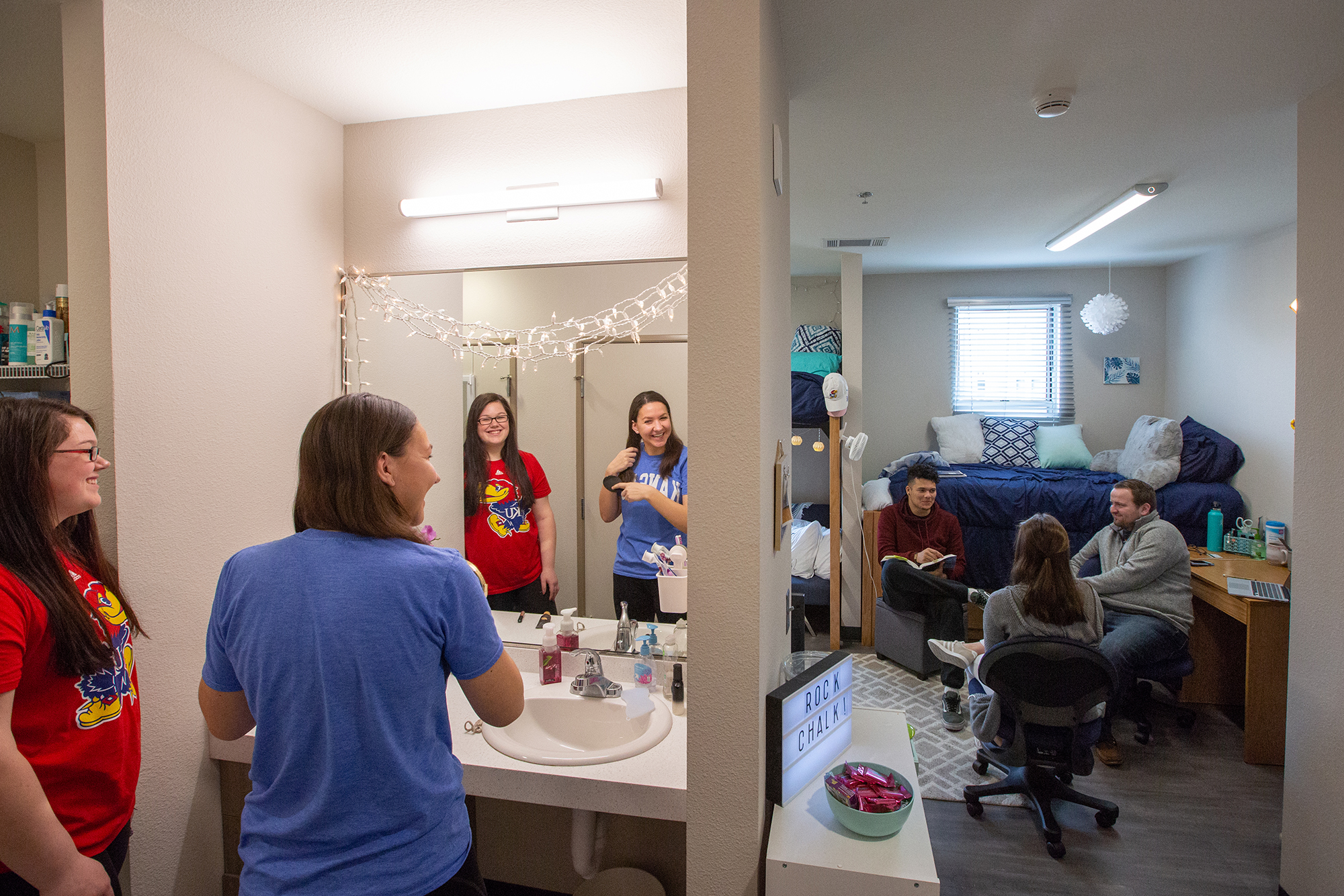 Semiprivate
Semiprivate rooms are found in both residence and scholarship halls.
In residence halls, semiprivate includes 1- or 2-person bedrooms, plus in-unit bathrooms that you may share with another roommate. Semiprivate rooms are featured in Downs, Ellsworth, Lewis, Oswald and Self.
In scholarship halls, semiprivate means shared bedrooms and shared bathrooms. Scholarship halls also have about 50 persons in each hall, unlike the residence halls with 300-500 students each.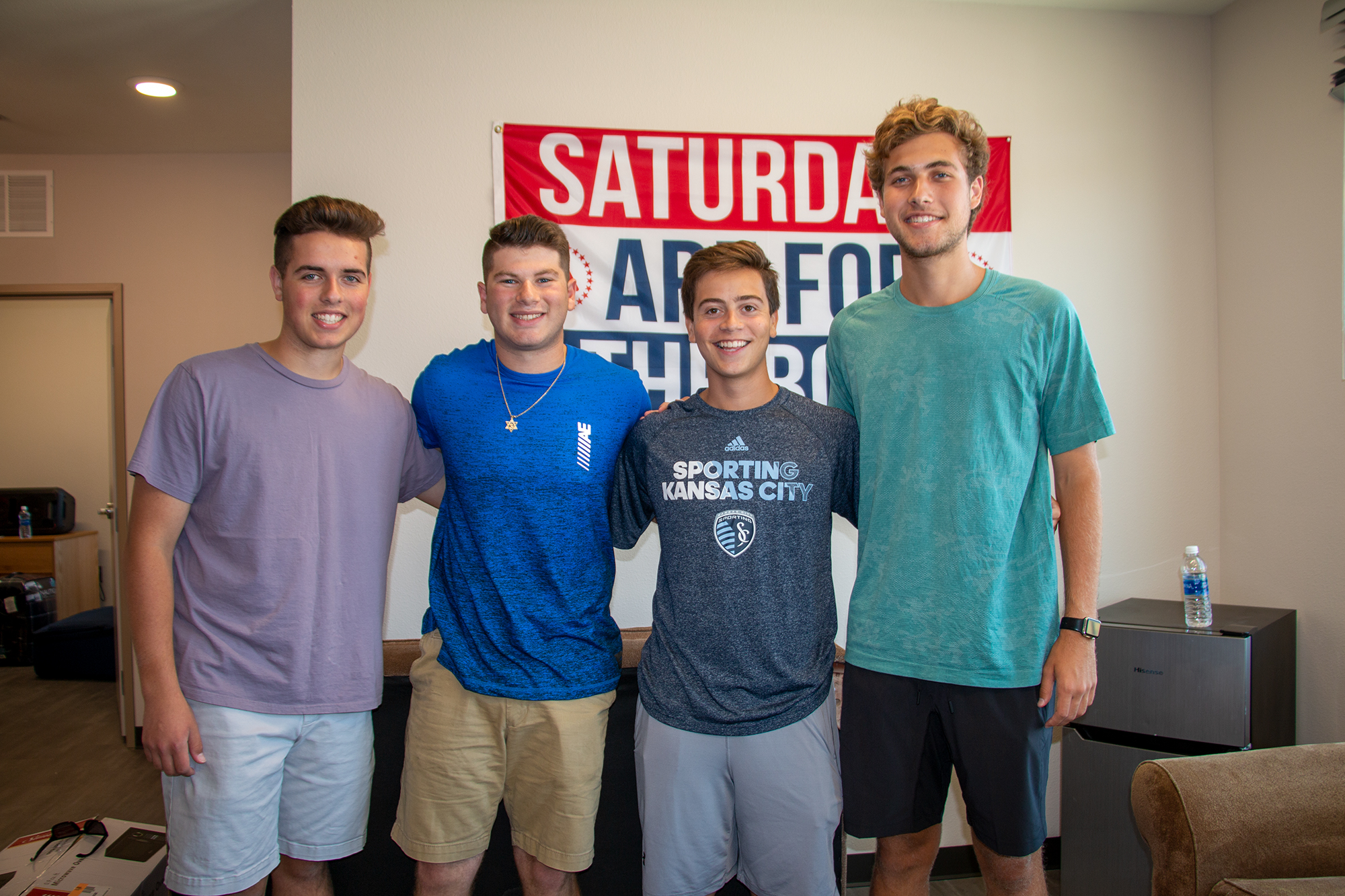 Suites
Suites are located in both residence halls and scholarship halls.
Suites are defined as 1- or 2-person bedrooms, plus an in-unit bathroom that you'll share with suitemates, plus a living room. Suites are located in Downs,  Ellsworth,  Lewis,  Oswald,  Self and Templin.  Stouffer Place offers an apartment for four or six residents that is similar to a suite experience.
Suites are located in the co-ed scholarship hall, K.K. Amini, the men's scholarship hall, Krehbiel, and the women's scholarship halls, Rieger and Margaret Amini.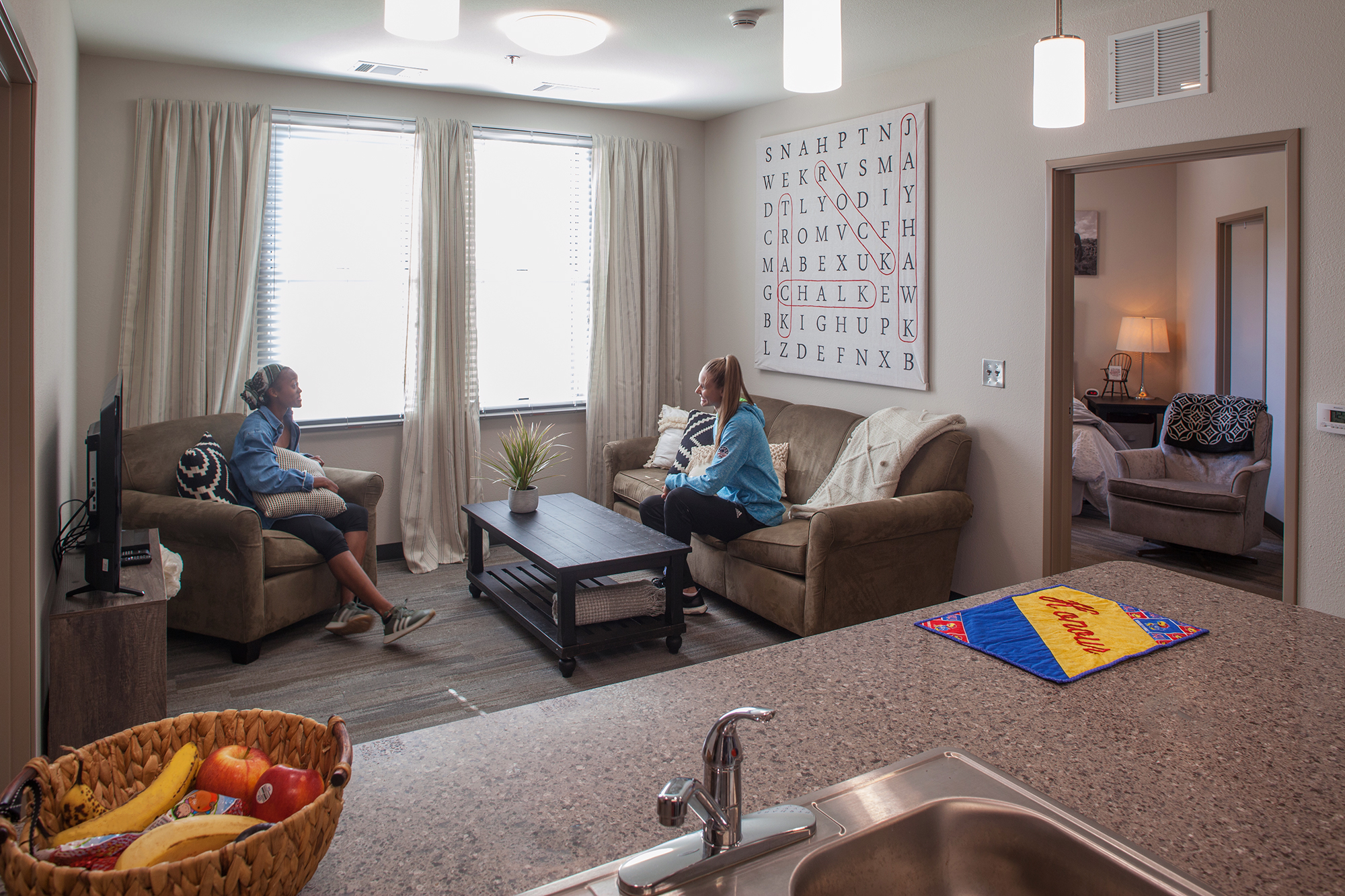 Apartment
Apartments offer the greatest degree of privacy, along with excellent convenience and location. They are a particularly attractive option for transfer and non-traditional students.
Apartments include 1- or 2-person bedrooms, living room, full kitchen, and bath. You can have a private bedroom and private bathroom in Stouffer Place Apartments. In the 2-person apartments of Jayhawker Towers and McCarthy, you can have a private bedroom and share a bath with one other person.