Approved Early Move-ins
• August 12: Panhellenic Recruitment participants

• August 13: Band, ROTC, Jayhawk JumpStart

Group coordinators will confirm dates, times, and details this summer.
August 15
Upper-class returning residents only in Stouffer Place, Jayhawker Towers, McCarthy Hall, Hawker, HERE, and Sunflower Apartments move in on this date.
August 17
Residents in Hashinger, Naismith, Self, and Templin Halls, all Scholarship Halls, and new/first-year residents in Stouffer Place move in on this date.
August 18
Residents in Corbin, Downs, Ellsworth, GSP, Lewis, and Oswald Halls move in on this date.
ATTENTION: TRAVEL UPDATE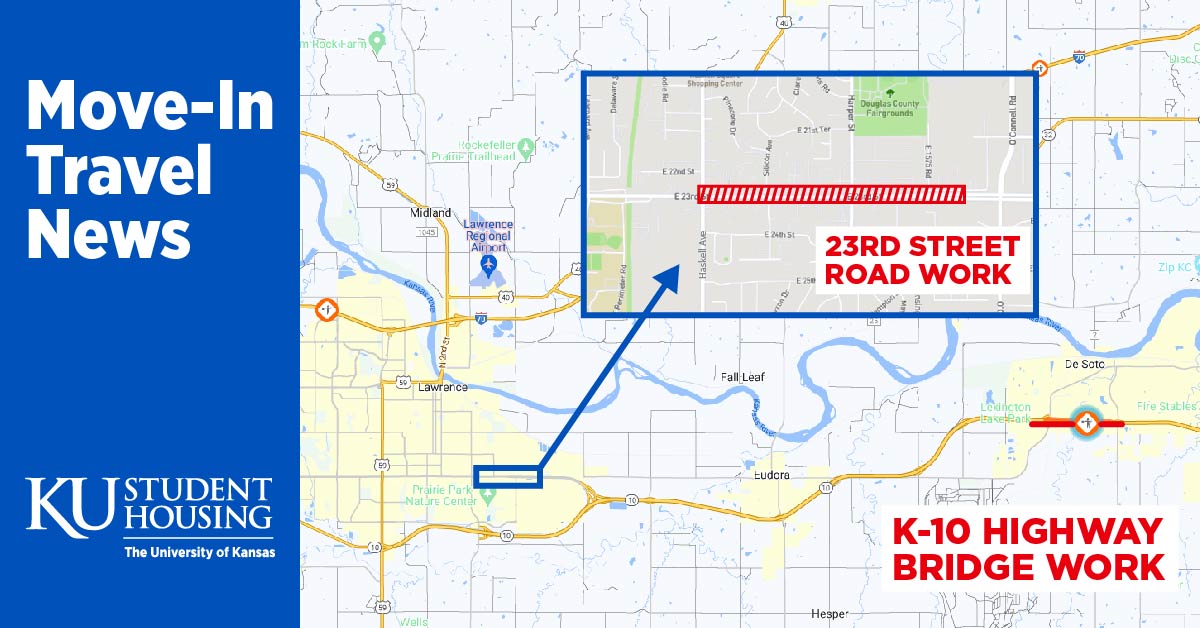 Due to bridge improvement projects on Kansas Highway 10, westbound travelers headed to Lawrence might experience delays between De Soto and Eudora. Traffic in that corridor has been reduced to a single lane, with the Kansas Department of Transportation cautioning drivers to be prepared for slowing or stopped traffic.
Extensive road construction on East 23rd Street in Lawrence may cause delays as well.
Please plan accordingly. Should you be delayed for your check-in time, don't worry, we will be ready for you when you arrive.