Welcome to Downs Hall
---
About Downs Hall
Located in KU's Central District, Downs Hall is KU's newest residence hall. The South Commons Dining center is conveniently attached to the hall, and Downs is within easy walking distance of Daisy Hill, Allen Fieldhouse, and Ambler Student Recreation Center. It is across the street from the School of Business, and near the Schools of Law, Engineering, and Music. Downs Hall is home to the ROTC Living Community.
Downs is home to 545 coed students. This coed hall is single gender by suite and its rooms include two- and four-person suites, and private bedrooms with shared bath. Downs Hall opened in 2017.
Cora Downs, for whom Downs Hall was named, was the first woman to earn a PhD at KU in 1924. She also received her undergraduate and master's degrees from KU. She began as an instructor of bacteriology in 1917, then became a professor and served as a member of the faculty until her retirement in 1963. Dr. Downs was one of KU's most outstanding scientists. During World War II, she led 40 scientists in a top secret biological warfare project.
Cora's grandmother, also named Cora Downs, was the first woman named to the Kansas Board of Regents, the governing body for all Kansas state universities.
Downs Hall features 2- and 4-person options. Beds can be lofted or bunked, and the mattresses are extra long twins (36" x 80"). Rooms also come furnished with window blinds, a desk, desk chair, dresser and closet space for each resident.

General room dimensions:
In the 4-person suites, bedrooms are about 7-7 ½' x 11-11 ½' and living rooms 13 ½ x 13 ½.
In the 4-person rooms (non-suites), bedrooms are about 11 ½ x 15 ½'.
In the private bedrooms (non-suites and no living room), bedrooms are about 7 ½ x 13 ½'.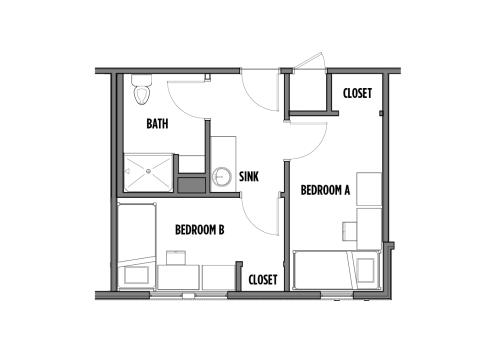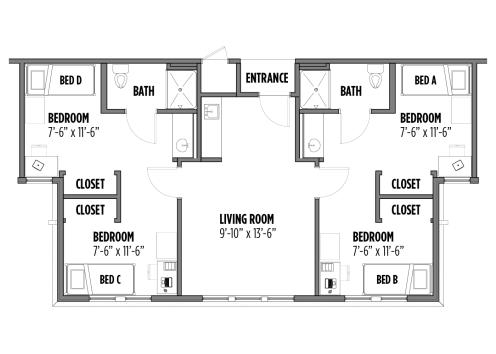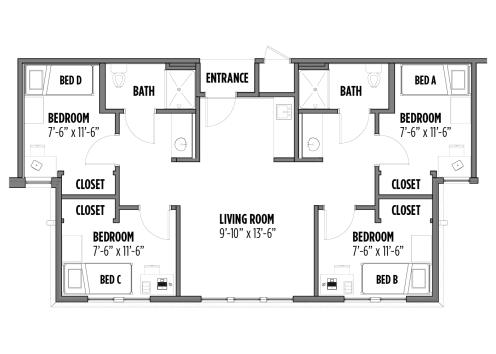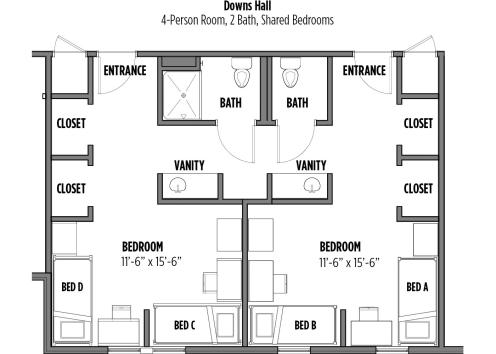 Living Room Furnishings
Starting in Fall 2022, Downs Hall four person suites will be provided with living room furnishings consisting of a small couch and two armchairs. This applies to both the Downs 4-person 2-bath suite, and the Downs 4-person 2-bath suite with private bedrooms.